About Kennel Grejsdalen
It started out, as a hobby in 1984, when our first bred was a Golden.
Our neighbour had an excellent example of a Golden, and naturally we fell in love with such a thoroughbred.
Ever since, the 20 years has brought with it instructional tasks plus exhibitions at home and abroad, and for the last 20 years involving co-work-jobs.
In our breeding, we emphasise a good temperament and to coin a phrase 'A Golden True' expression.
Great emphases are placed on socialising and stamping, so that the dogs are with us both outdoors and indoors, in the living room and in the kitchen when they are fed. Before the puppies leave us, they have been through a health check by an authorised veterinarian.
We emphasise, that our breeding material procedures are well examined before breeding, example HD, eye-illnesses and other heritable diseases. We feel it's an integral part of raising, along with a true sign for through-good-breeding.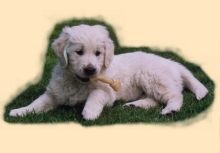 Our priorities are high so that the dogs can be used on hunts or exhibitions. Purchasing at Kennel Grejsdalen means detailed information that suits the purchaser with knowledge of dogs. So if a problem arises, it's best to tackle it in good time. Further more, we invite purchasers of pups to a-get-together, about every six months, where we trade, solve and chat to clear problems and share experiences.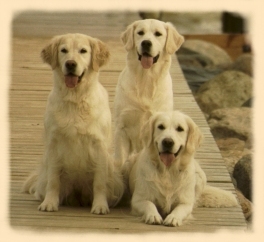 If you are considering of acquiring a Canine pup here (Dansk Kennel Klub) or grab-a-bone chat, as well as, have a pup-chat with us.
Kennel Grejsdalen
Kaj & Margit Sørensen Møller
Rugvænget 6
DK-7130 Juelsminde
Tlf. +45 - 75 85 44 04
E-mail: info@kennel-grejsdalen.dk